CALCIUM CARBONATE FOR PLASTIC INDUSTRY
CAS No.: 471-34-1
EINECS No.: 207-439-9
H.S. code: 28365000.00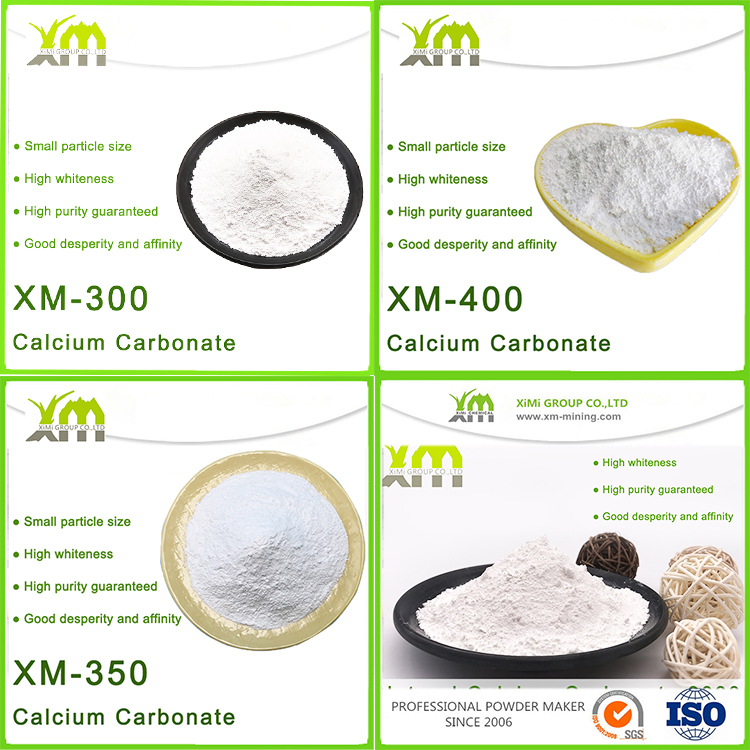 TECHNICAL DATA SHEET
| | | | |
| --- | --- | --- | --- |
| Model Number | XM-C100 | XM-L2000-1 | XM-L3000-2 |
| Fineness (mesh) | 1250 | 2000 | 3000 |
| D97 (um) | 13 | 20 - 23 | 1.9 |
| Whiteness (%) | 98 | 97 | 98 |
| Moisture (%) | 0.2 | 0.3 | 0.2 |
| CaCO3 | 99.3 | 99.2 | 99.8 |
| SiO2 | 0.02 | 0.02 | 0.02 |
| Fe2O3 | 0.02 | 0.02 | 0.02 |
| 325 Mesh Residue On | 0.01 | 0.01 | 0.02 |
| Loss on Ignition (%) | 42.5 | 41.5 | 43.5 |
| PH Value | 7.5 - 9.5 | 7.5 - 9.5 | 7.5 - 9.5 |
| Oil Absorption (g/100g) | 20 | 20 | 30 |
| HCL Insoluble (%) | 0.01 | 0.01 | 0.01 |
APPLICATION:
ADVANTAGES:

Calcium carbonate (CaCO3) is one of the most popular mineral fillers used in the plastics industry. It is widely available around the world, easy to grind or reduce to a specific particle size, compatible with a wide range of polymer resins and economical. As an additive in plastic compounds, CaCO3 helps decrease surface energy and provides opacity and surface gloss, which improves surface finish. In addition, when the particle size is carefully controlled, CaCO3 helps increase both impact strength and flexural modulus (stiffness).

Calcium carbonate forms a kind of skeleton structure inside plastic products, and greatly improves the size stability of plastic products. It can improve product hardness, electrical performance, flame retardant performance, heat resistance, and processing performance. It can also improve products' luster and surface regularity.

KEY FEATURES:
● High whiteness
● High purity guaranteed
● Consistent particle size distribution
● Good dispersity and affinity
● Non-toxic and magnetic
● Good rheological properties
● Good flow properties
● Improves thermal stability
● Efficient cost-saving
● Improves mechanical properties
PACKING DETAILS:
Factory standard: 25kg/bag, plastic woven bag with lining.
If Pallet needed: wooden pallets, 1~1.2MT per pallet.
20 pallets in one 20'GP container. Pallets are PE wrapped and strapped.