Natural Barium Sulfate for Printing Ink Industry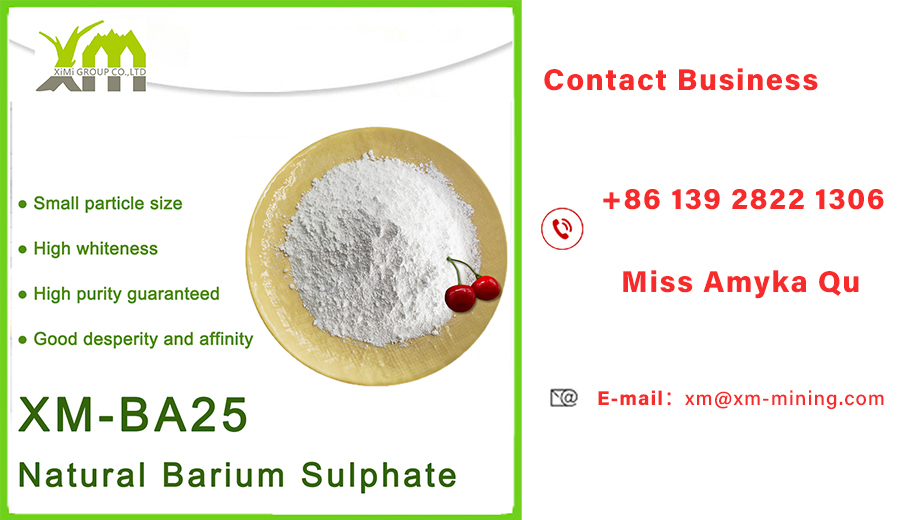 Molecular formula: BaSO4
HS code: 2511100
CAS No.: 13462-86-7
EINECS No: 236-664-5
TECHNICAL DATA SHEET:

MATERIAL PROPERTIES
Apperance
White Powder
Fineness (mesh)
2000
Content (%)
95
Whiteness (%)
93
Moisture (%)
0.2-0.3
Oil Absorption g/100g
12~14
Ph Value
7±0.5
Specific Gravity g/cm3
4.30
Loss on ignition (%)
0.74
Matter soluble in water
0.2
Particle size customize
Yes
PRODUCT DESCRIPTION:
Barium Sulfate (or Sulphate) is the inorganic compound with the chemical formula BaSO4. It is a white crystalline solid that is odorless and insoluble in water. It occurs as the mineral barite, which is the main commercial source of barium and materials. The white opaque appearance and its high density are exploited in its main applications.
APPLICATION:
ADVANTAGES:
PRODUCT CHARACTERISTICS:

● Very High purity guaranteed

● High whiteness

● Good dispersity and affinity

● High specific gravity

● Nice covering power
● Resistant to acid and alkali

● Natural, non-toxic and magnetic
● Stable chemical properties
PACKING DETAILS:
Factory standard: 25kg/bag, plastic woven bag with lining.
24MT/20'GP Container for Barium Sulfate