Papermaking materials (mainly used in paste products), flame retardant materials, anti X-ray materials, battery cathode materials, and etc. It has a unique properties and act as an important component of relevant materials.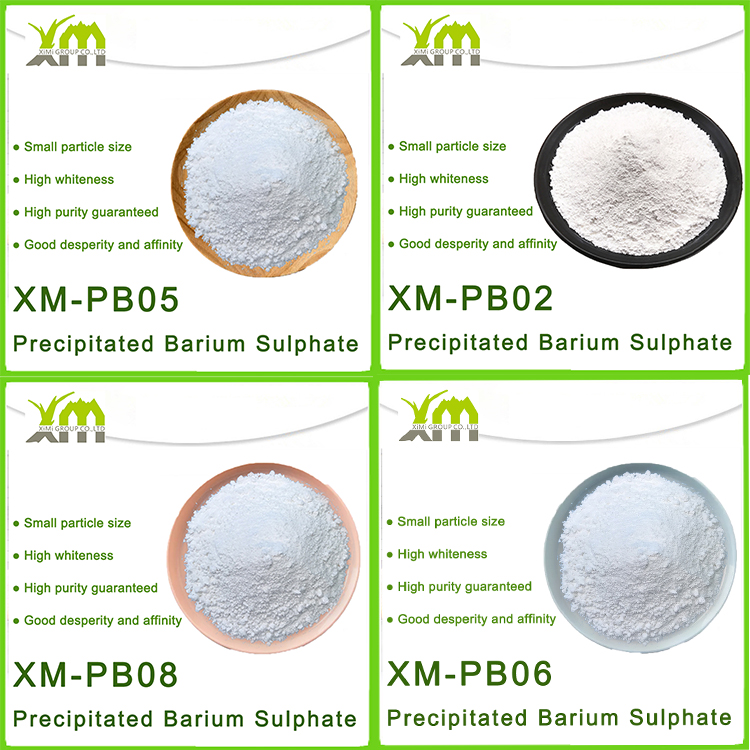 APPLICATION:

TECHNICAL DATA SHEET

MATERIAL PROPERTIES
Apperance
White Powder
D50 (μm)
0.7
BaSO4 content (%)
98.5
Moisture (%)
0.05
Sieve Residue On 325 Mesh (%)
0.003
Whiteness (%)
98.7
Oil Absorption g/100g
14~16
Ph Value
7~9
Specific Gravity g/cm3
4.3~4.4
Water Soluble Matters (%)
0.06
Refraction Index
1.64
Electrical Conductivity (Us/cm)
150
ADVANTAGES:
The precipitated barium sulfate has strong chemical inertness, good stability, acid and alkali resistance, moderate hardness, high whiteness, high gloss and the ability to absorb harmful x, γ-ray, as well as other advantages. It is an environmentally friendly functional material. It is widely used for a variety of coatings (water-based, oil-based and powder coatings, such as automotive paint, wood paint, exterior wall paint, anticorrosive paint, high-gloss paint, electronic ink and printing ink, etc.), modified plastics (PA, PBT, PET, PC, POM, PMMA, PP, ABS, PE, PS, automotive plastics, appliance housings, films and building materials, plastics, etc.), rubber, elastomers, paper, cosmetics fillers. It can also be used as the agent for stomach when swallowed (called barium meal), the battery cathode expansion rod, the glaze materials to manufacture ceramic and enamel, the surface coating agent of printing paper and coated paper, the sizing agent used in textile industry, the clarifying agent for glass, and it can play part of defoaming and increasing the gloss effect.
As an anti-radiation protective wall material, it can be used in nuclear facilities, atomic power plants and X-ray laboratories, etc. to provide a good shielding effect. With the X-ray developing feature, it can be used in the medical developing fiber and the children's toys. For drains, speakers and audio, it can effectively cut off the noise. It can also be used in the synthesis of pharmaceutical chemicals, and the flavors and pigments industry.
KEY FEATURES:
● Efficient cost-saving
● Good flow properties & Good dispersity and affinity
● Improves thermal stability
● Good brightness
● Excellent narrow particle size range
● High purity guaranteed & High whiteness
● Nice covering power
● Resistant to acid and alkali
● Stable chemical properties
● Top wettability
● Non-toxic and magnetic
PRODUCTION PROCESS:


PACKING DETAILS:
Factory standard: 25kg/bag, plastic woven bag with lining.
24MT/20'GP Container for Barium Sulfate