Precipitated Barium Sulfate for Filler Industry

Molecular formula: BaSO4
HS code: 28332700
CAS No.: 7727-43-7
EINECS No: 231-784-4

Precipitated barium sulfate is a kind of material with environmental protection function due to its strong chemical inertness, Tire and rubber, insulation rubber, rubber plate, adhesive tape, engineering plastics can enhance the product anti-aging performance and climate resistance, the product is not easy to aging or embrittlement, and can significantly improve the surface finish, reduce the production cost. As the main filler of powder coatings, it is the main means to adjust the increase rate of powder bulk density.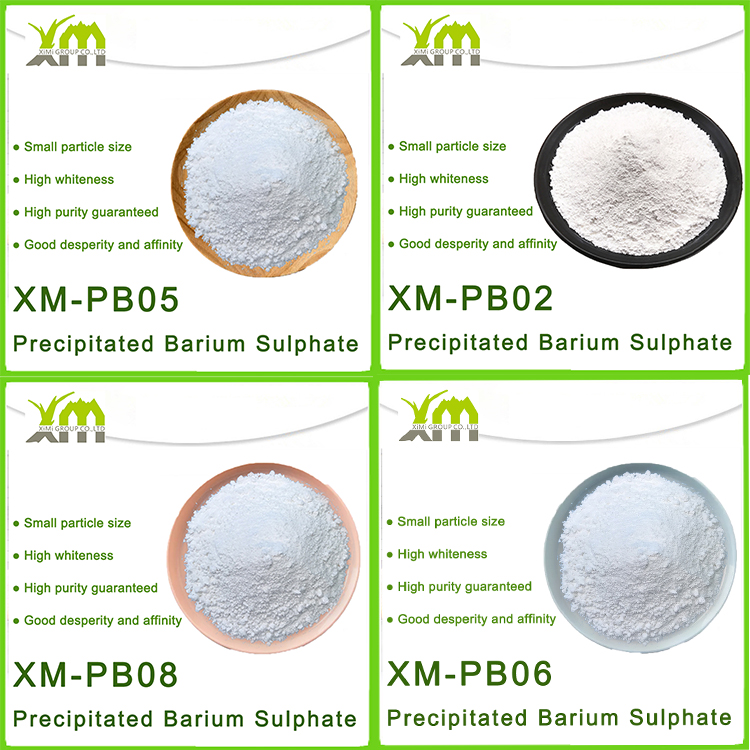 APPLICATION:
TECHNICAL DATA SHEET

MATERIAL PROPERTIES
Apperance
White Powder
D50 (μm)
0.7
BaSO4 content (%)
98.5
Moisture (%)
0.05
Sieve Residue On 325 Mesh (%)
0.003
Whiteness (%)
98.7
Oil Absorption g/100g
14~16
Ph Value
7~9
Specific Gravity g/cm3
4.3~4.4
Water Soluble Matters (%)
0.06
Refraction Index
1.64
Electrical Conductivity (Us/cm)
150
ADVANTAGES:
Barium sulfate is commonly used as a filler for plastics to increase the density of the polymer in vibrational mass damping applications. In polypropylene and polystyrene plastics, it is used as a filler in proportions up to 70%. It has an effect of increasing acid and alkali resistance and opacity.
Barium Sulfate can effectively increase crystalline of thermoplastic polymer, so as to improve the strength and geometrical stability of products, Rubber Grade, Engineering plastic, polyphenylene sulfide (PPS) plastics,.
PRODUCT CHARACTERISTICS:
● Efficient cost-saving
● Good flow properties & Good dispersity and affinity
● Improves thermal stability
● Good brightness
● Excellent narrow particle size range
● High purity guaranteed & High whiteness
● Nice covering power
● Resistant to acid and alkali
● Stable chemical properties
● Top wettability
● Non-toxic and magnetic
PRODUCTION PROCESS:


PACKING DETAILS:
Factory standard: 25kg/bag, plastic woven bag with lining.
24MT/20'GP Container for Barium Sulfate